The Practice Blog
The Practice Blog is an ongoing music practice resource for students, teachers, parents and anybody involved in music who needs to practice.
RSS (for more information about RSS and how to use it click on the blue ? above the orange RSS button) is used to update you when I have updated the blog – kind of like an automatic bookmark that only appears when there is something new to see. Of course, you will probably want to bookmark the Essential Music Practice Homepage as well so it is available for reference at all times!.
You can also click on one of the buttons at the bottom to bookmark.
The Music Practice Blog will
let you know when any new web pages go up on Essential Music Practice so you are always up to date with the latest thinking about music practice

direct you towards particular areas of the site you may be interested in and have missed

inform you if I have posted a review of any new piece of music software or equipment that could be useful for supporting your practice and making it even more efficient

inform you when I post book reviews on Sheet Music sites or on Amazon or other book websites and gives a brief summary of the review

give links for particularly good music practice related articles I have discovered while browsing the internet
---
Oct 21, 2012
Make Faster Progress On Your Instrument
If you want to make faster progress on your musical instrument getting all the notes right all the time is essential. If you don't, you might as well be watching TV or surfing the net! Find out how.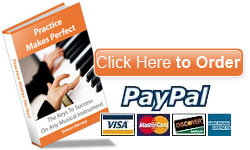 For more advice on how to make more efficient use of your practice time, read my book Practice Makes Perfect. For more guidance when practising scales order Practice Makes Perfect, the book that teaches you how to make your music practice more efficient and effective. Easy to read and containing over 140 pages of advice on how to practice, musical goal setting, practice games, exams and further tips on using the music practice charts on this site as well as other invaluable practice advice. One music teacher called Practice Makes Perfect "An essential read for all musicians "
Click here now to order or read more about how Practice Makes Perfect can help you make more progress in much less time.