Boss DB90 Review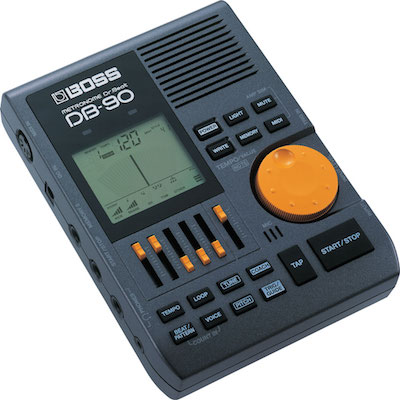 Here is an excellent review of the Boss DB90 digital metronome written by Muhammad Ibrahim. It covers all the essentials you need to know if you are thinking of buying this metronome. It looks like an excellent choice and Muhammad clearly did his research before buying. I have made a few additional comments in italics. I will hand you over to him...
I made my choice after listening to all the other digital metronomes via YouTube.  I wanted a digital metronome that sounded more like a traditional metronome, and none of the cheaper digital metronomes even came close to having an authentic sound.
Regarding the volume level: There is a video review on YouTube by "Insane Drummer" in which the reviewer complains about the low volume of the metronome, even when set on max volume. However, Roland must have improved their product since this video was made, because the DB-90 metronome that I recently purchased produces that amount of volume at around 25%.  In other words, the most recent version of the DB-90 is about four times louder than the one shown in the video.
---

Pros of the Boss DB90
Sounds exactly like a traditional metronome, plus there are two additional voices and a "counting" voice. [I can see how the counting voice could be useful for music practice sometimes, especially for a passage with difficult timing. As ever, I encourage you to count out loud along with the metronome though!]
Ability to adjust the volume of the bell independently of the main beat.
Ability to sound 1/8 beats, 1/16 beats and triplets - there are independent volume sliders for each.
Main volume slider - can sound as loudly or as quietly as you want.
External connectivity - Can use it with headphones, or even start/stop it using an external foot pedal.
Automatically remembers your previous settings, plus has 50 memories for storing custom settings.
Very easy to use.
Lots of additional features, just in case you ever need them.
---

Cons of the Boss DB90
High price tag: between $129 and $179, depending on where you buy it.
Chews through batteries quickly, unless you power it using an external adaptor.
Mains adaptor is an "optional extra".
If you forget to switch the mains adaptor on, the unit will operate on battery power instead, but without notifying you.
Replacing the battery results in the unit forgetting all your saved settings.
The pull-out plastic stand at the back of the unit feels a bit flimsy.
---

Conclusion
It may be expensive, but it does everything you need it to do, and more besides.
If, after reading this, you think that the Boss DB90 is for you then click to go to Amazon US or Amazon UK. Amazon US currently have it at $129 which is the lower end of the price range Muhammad suggests above, and they also have a package with the power adaptor. Plus it has 4.4/5 stars from 88 review currently, so clearly people like it!
Thanks to Muhammad for this excellent in depth review. If you have any products you feel are particularly useful for your practice, or your music making in general and would like to share please contact me.
Expert Practice Secrets
Frustrated with your practice? Read Practice Makes Perfect and hack the 10,000 hour rule. Cut your practice time by up to 25%! Make faster progress, learn pieces and scales faster, memorize more easily, and much more. "If you play an instrument you need this book!"
Oct 17, 17 06:51 PM

I took my online lessons from an Azerbaijani musician in Istanbul. I could find him from his website. I put here for in-need people. I am very satisfied

Oct 17, 17 06:50 PM

Hello! First of all, thank you for publishing all this useful info on piano learning. I would like to share my experience using Smart Game Piano How

Oct 17, 17 06:21 PM

You may wear the finest clothes, own the biggest house, eat only gourmet foods and live the most extravagant lifestyle known. All of those are improved