Effective music practice


is the key to success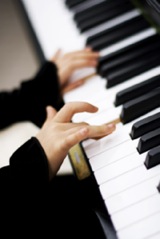 As musicians we are always told that 'music practice is the key to success on any instrument'...but nobody ever tells us how to practice. We are told that 'Practice makes perfect'...but nobody ever tells us how! In fact, practice doesn't make perfect. Perfect practice makes perfect! This site is about how to improve your practice techniques.
In 15 years of teaching music I have noticed it is the students who know how to practice effectively that make the most progress...and they are not necessarily the students who practice for the longest. They are the students who have an effective music practice technique. This site gives you the essential music practice techniques you need to progress more effectively and efficiently. It teaches you how to practice music, guiding you towards making faster progress in less time whether you are doing piano practice, violin, clarinet, flute, guitar... or any other musical instrument practice. The advice and techniques on this site apply to all instruments. By reading through and applying the advice you will have more efficient and effective practice
---
Why do some people seem to do less music practice than you?
If you ever wondered how some people seem to learn pieces and scales quicker than you, how they improvise and sight read effortlessly and still seem to do less work than you the answer is they know how to practice music
Many people talk about 'talented' musicians... but it is tenacity not talentthat wins the day. Browse the site now to find new and exciting techniques and tips on practicing music to help you start making more progress in less time!
"If I don't practice the way I should,
then I won't play the way I know I can"
Ivan Lendl - champion tennis player
The information on this website guides you towards achieving your musical goals efficiently, whether they are fame and fortune in the Classical or Pop world, becoming the next great film composer or being able to play for a local church or community group. This site helps you refine your goals and carry them through. You will find downloadable sheets and information on general music practice techniques as well as advice for practicing specific instruments.
UpdateI am actually having to take much of the practice advice on the site and practice what I preach again as I have started learning the bass guitar! Click here to read more about how I am getting on, and which practice techniques i am using the most.
In amongst all this talk of technique please remember the most important thing when we play is to enjoy playing. If we aren't enjoying playing, how can we expect others to enjoy listening to us?
Enjoy browsing the site and good luck with your practice and your playing. If there is anything practice related you think I could help you with please use the Contact form and let me know. I'll do my best to help!
Simon Horsey
I update this site on a regular basis as I find new practice techniques, games and software that may be useful to help make your practice more effective. Subscribe to the RSS feed to be informed as soon as there is more great new content!
Frustrated with your practice? Read Practice Makes Perfect and hack the 10,000 hour rule. Cut your practice time by up to 25%! Make faster progress, learn scales, memorize pieces more easily and much more. "If you play an instrument you need this book!"