Downloadable music practice charts
There are various downloadable music practice charts available on this site. Planning practice is essential for faster, easier progress and these practice sheets will help you plan your practice more effectively.
Please feel free to alter any of the music practice charts, pass them on to friends, students, or anyone else you think would find them useful, put them on your own site... in fact just about anything you want. Please consider linking back to Essential Music Practice if you post them on a site or use them in a newsletter or ezine. The most important thing to do with them however, is USE THEM! It may be a bit of a change of habit to start with, but it is worth it!

Planning your practice
It is important you plan your practice and practice your plan. That isn't to say plans can't be flexible, they can. Life happens! We all need to be flexible with our planning. The important thing is to have a plan in the first place.
Click here for music practice charts to help with setting your musical goals and planning your practice.


---

Lesson notes
A common problem between teachers and students is one of misunderstanding what is required in the lesson. When the teacher says "Learn this" they may mean I want it from memory with the notes 100% correct, dynamics included and it needs to be at least 80% of the way to being played at the final tempo. When the student hears "learn this" they may think Cool - that shouldn't take long. Play it through a few times, get the hang of it. I'll get most of the notes... it is the first week I've had it after all... and I can work out the dynamics later, just before the concert! This will be like having a week off!

The differences aren't always that extreme - but you get my point. The important thing between teacher and student is that they both have the same expectation.
Click here for more information and a sheet to use in lessons that makes it clear what is required each week.


---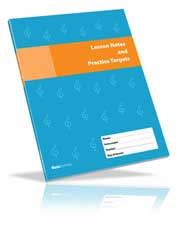 Practice sheets now available in book format!
The lesson notes sheets from the site are now available in a one term or one year book format. Lesson Notes and Practice Targets helps all music students make better use of their practice time helping them achieve more in less time. Click here for more information on the Lesson Notes and Practice Targets book
---

File it!
Picture the situation. You are at school. The Deputy Head comes up to you and says "There you are. You play the piano, don't you?"
"Yes" you reply, wondering if you are in some kind of trouble for it
"Well, I need somebody to play in an assembly. Would you be prepared to perform something? It doesn't need to be too long. 3 - 5 minutes maximum."
"Great!" You think. A chance to show what I am capable of. "Of course Miss," you reply, smiling and wondering whether you'll have time to get that Chopin finished to play "When is the assembly?"
"Oh, didn't I say? It's the one in a couple of days. This coming Friday. Someone has pulled out and I need to fill a spot. Thanks for agreeing to help out" she says as she starts to walk off down the corridor...
If this has never happened to you, it will at some point in your musical life. It might not be at school. It could be a friend, community group, family gathering... but it will happen.
Click here to find out how to file your music and stop the panic when it does


I am currently working on a computer database version of the File It sheet to give you a searchable database of pieces in your repertoire, including scans of the music. Check back regularly or subscribe to the Perfect Practice monthly e-zine to informed of when the database and other practice resources are available.
If you have any music practice charts or other resources you would like to add to those on this site, or you would be interested in writing an article for the Perfect Practice monthly e-zine, from a teacher's, student's, parent's or performer's perspective, please contact me and I will send you details of the requirements.
Please complete the form below to sign up to the Perfect Practice monthly e-zine.
---

All the files on the music practice charts download pages are in a PDF format. Click here to get the free Adobe Acrobat Reader. which you will need to view the files. Mac users may also view them in the built in application Preview.


---

For more advice on how to use these practice sheets and make more efficient use of your practice time, read my book Practice Makes Perfect. Practice Makes Perfect teaches you how to make your music practice more efficient and effective. Easy to read and containing over 140 pages of advice on how to practice, musical goal setting, practice games, exams and further tips on using the music practice charts on this site as well as other invaluable practice advice Practice Makes Perfect is an essential read for all musicians.
Click here for more information on Practice Makes Perfect.
---

Return to Essential Music Practice from Music Practice Charts