Sheet Music on and offline
The internet makes it easier than ever to access a huge amount of sheet music... and some of it is free! This means there is absolutely no excuse for avoiding practice as you can always find something you enjoy playing.
Where can I download this music?
One of the most common forms used to download music is the Adobe PDF file. There are literally thousands of websites offering free downloads of music in this format. One of the easiest ways of finding PDF sheet music is to search for title you are looking for with the PDF extension.

Another format that is becoming very popular online is the Sibelius Scorch browser plug-in. This actually allows you to see, hear and even transpose the music before you print it. The only trouble is downloaded music can be of very variable quality! Click here for more information on how and where to download good quality music both as PDF files and in the Sibelius Scorch format.
Of course, you can always get a recording of the sheet music you want and transcribe a copy yourself
---


CD Sheet Music
CDs containing PDF music files are also available. The advantage of these is they often contain a composer's complete works for a certain genre or instrument in an easily searchable format. I have The Complete Piano Works of Haydn, Mozart, Beethoven, Chopin and Liszt as well as the Collected Keyboard works of Bach - which includes all the four-part chorales...amazing for sight-reading practice! CD Sheet Music are moving from Version 1 to Version 2 and therefore having a SALE! Click here to go directly to the Sheet Music Plus sale of Version 1! Imagine having all of the Bach Keyboard works delivered to your door for under $12! Get Version 1 at this amazing price while you still can...I remember paying around $25 or $30 per CD when these first came out! I believe it is also easier to make a backup copy of the V1 CD, or copy the entire file to a hard drive for easy reference...
---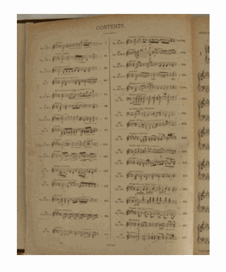 Traditional books
Even with the availability of free or low cost music on the web, it is still sometimes preferable to have a book to play from. I find this is particularly the case when playing the piano. A book makes the pages easier to turn (I have been caught with pieces of A4 paper flying off the piano desk more than once), it is often quicker to look something up - especially in a book of Sonatas where the book has a clear index showing the main theme at the front, books are 'no printer required' - just open the book and play. I have even tried playing from music on a laptop screen sitting on the piano...not a good experience! And call me old fashioned but I like having actual music books on the piano allowing me to browse through them and play through short sections of a piece to see if I like it and want to learn it...maybe I am just old fashioned!
Using traditional printed music and books doesn't take you away from the convenience of the internet though! There are several excellent sites where you can buy books online and have them shipped to your door. One of my favourite sites is Music44, which has a huge range of titles available and some excellent 'Value Packs'. These are combinations of books of similar levels or styles that teachers and other students have put together to help you progress. Just enter your search term in the box below to see if it is available at Music44 and what other books are recommended.
Another site I often use is Sheet Music Plus. This site also has a good selection of books and is particularly good for rock and pop songs. Sheet Music Plus is the site I go to first if I am looking for a recently released song. Use the box below to search the Sheet Music Plus site

I have used both of these sites extensively to buy music and the service has always been very friendly and efficient.

Of course there is also Amazon who sell music books. I have found titles in Amazon can end up being a little more expensive at times, but I sometimes use it for convenience (and free delivery if I am ordering a few other non music related items!). If you are looking for the best music books that Amazon has to offer look no further than the Essential Music Practice Amazon store! Click here if you live in the US or Click here if you live in the UK to see my regularly updated lists of recommended music books.
If you know of a particularly good online music store please feel free to contact me as I am always on the look out for new sites that offer friendly, efficient service and a wide range of products.
---

Return to Homepage from Sheet Music