How To Practice - Free eBook

Everybody wants to know how to practice more effectively. Everyone is trying to work smarter, not harder, and hopefully my new free ebook on music practice will help you do just that. Not that I'm advocating not working hard of course! It takes hard work and commitment to learn any musical instrument, but we live in a busy world with many distractions and learning some techniques to help you achieve more efficient and effective practice will help you make more progress on your instrument and stay focused on your music practice.
For those who aren't quite ready to buy my eBook Practice Makes Perfect yet, I have written a free ebook called How To Practice Music - 5 Habits To Help You Make More Progress. This book guides you through 5 habits to help improve your music practice technique. Many people only think about improving technique on their instrument, they don't think of improving their practice technique. We generally learn how to play our instrument, we don't spend so much time learning how to practice. If we did our music practice would become more efficient and effective, and we would make more progress in less time. This, of course, means that if you spent the same amount of time practicing you would make even more progress.


---

Download free music practice ebook

I would really appreciate it if you would 'pay with a tweet or facebook like' by clicking the button below, as it will help spread the word about the Essential Music Practice site, especially since I am just starting work on some new pages and sections about practicing individual instruments. These pages about practice techniques for individual instruments will also have comment sections where people can ask questions, share advice and tips on practice techniques that have worked for them, and the bigger the community involved, the more helpful it will be for other musicians.

The 5 Habits eBook is in the Adobe PDF format. Click here to get the free Adobe Acrobat Reader which you will need to view the file. Mac users may also view it in the built in application Preview.

If you are not a twitter or facebook user or you feel uncomfortable tweeting about, or liking How To Practice, then you can Download the book directly with no sign ups, tweeting or liking necessary!
Perfect Practice the Essential Music Practice Newsletter has been 'on holiday' for a while due to school teaching committments. However, I hope to have it back on track after Easter so sign up now to make sure you don't miss the next issue.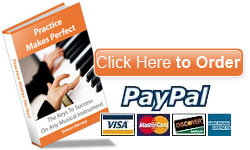 For more advice on how to make more efficient use of your practice time, read my book Practice Makes Perfect. For more guidance when practising scales order Practice Makes Perfect, the book that teaches you how to make your music practice more efficient and effective. Easy to read and containing over 140 pages of advice on how to practice, musical goal setting, practice games, exams and further tips on using the music practice charts on this site as well as other invaluable practice advice. One music teacher called Practice Makes Perfect "An essential read for all musicians "
Click here now to order or read more about how Practice Makes Perfect can help you make more progress in much less time.