Practical Practice Tips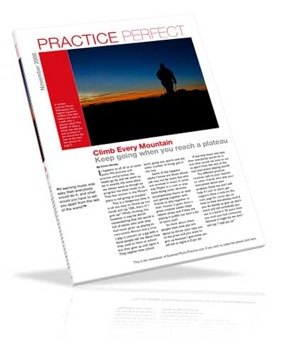 Subscribe to the Practical Practice newsletter and get up to date practice tips in your email once a month. Articles in the e-zine focus on practice technique for all instruments, as well as having a specific instrument focus in some issues. New software packages and books are also reviewed when appropriate.

Whether you are a student, teacher or parent, this is a light, but informative and indispensable read.
If you would like to read back issues before you sign up click here for archived copies
Sign up for practical practice now
Sign up now by completing the form below.
Don't worry - I guarantee I will not sell your email on or spam you. I personally hate it when I sign up for a newsletter and end up with a pushy email a day or suddenly find myself on lots of email lists so I will not inflict that upon you!


Didn't this used to be called 'perfect practice'?
Yes, it did! But I decided when I was redesigning the website an looking through my articles that most of them give practical music practice advice, and achieving 'perfection' isn't really possible - there is always some small thing that can be improved - so I decided to move to Practical Practice instead. I hope you enjoy the tips!

Do you have something to say about music practice?

Why not write an article for Practical Practice? I am always looking for good, original content. You don´t have to be a professional writer... just have something to say! Articles can be from any perspective: young student, older student, beginner, advanced, teacher, parent, a friend who wishes you didn't have to do quite so much practice.... You can even submit articles based on how you went, or intend to go about practicing a certain piece of music, so get thinking and get writing! 
I am always looking for
music practice game ideas
specific practice techniques for different instruments
creative uses of the metronome
new methods for learning (and remembering) scales
any iOS or Android Apps you find particularly useful
any recording device or other equipment you feel your students can't (and shouldn't) live without
ideas for preparing for concerts and exams
particular challenges you or your students have overcome
a student's perspective as to what does and doesn't work for you
your general philosophy on music practice
anything else you think is relevant to the site!
Please let me know on the form below if you have any good article ideas!
---
Expert Practice Secrets
Frustrated with your practice? Read Practice Makes Perfect and hack the 10,000 hour rule. Cut your practice time by up to 25%! Make faster progress, learn pieces and scales faster, memorize more easily, and much more. "If you play an instrument you need this book!"
Oct 17, 17 06:51 PM

I took my online lessons from an Azerbaijani musician in Istanbul. I could find him from his website. I put here for in-need people. I am very satisfied

Oct 17, 17 06:50 PM

Hello! First of all, thank you for publishing all this useful info on piano learning. I would like to share my experience using Smart Game Piano How

Oct 17, 17 06:21 PM

You may wear the finest clothes, own the biggest house, eat only gourmet foods and live the most extravagant lifestyle known. All of those are improved