Clear music lesson notes
Music lesson notes need to comment and reflect on the work from the previous week, give advice on technical problems and how to overcome them and set work for the following week. This can often lead to confusion as teachers generally write their comments and work for the next week under a single heading of the piece being studied. This leads to practice goals being missed during the week and problems arising next lesson.
This lesson notes sheet helps alleviate these problems by dividing the notes up into comments on the work from the previous week on one side and targets for the following week on another. It also allows space for notes to and from home, student reflection and a countdown to any important performances coming up. The student evaluates how near the target they are each week, allowing the teacher to see discrepancies between their own and the student's view of 'targets achieved'. This, in turn, hopefully allows the middle ground to be found so the teacher is able to be clear to the student about what is expected in a way they understand, and the student is able to understand what the teacher requires. Once they are both speaking the same language progress can be much easier and faster.
For this reason using technical terms as much as possible on the music lesson notes sheet is encouraged. E.g., not 'learn bars 1 to 16 perfectly,' but 'Bars 1 - 16 need to be played at 96bpm, separate hands, with dynamics. It must be played 3 times in a row with all notes correct each time.' This is a bit of an extreme example, but I'm sure you get the picture!
---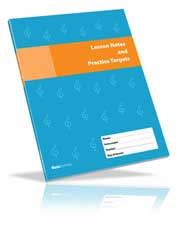 Practice sheets now available in book format!
The lesson notes sheets from the site are now available in a one term or one year book format. Lesson Notes and Practice Targets helps all music students make better use of their practice time helping them achieve more in less time. Click here for more information on the Lesson Notes and Practice Targets book
---
Click here to download the music lesson notes sheet
This sheet is on A4 paper in landscape orientation. If you find you need more space to write
Click here to download the lesson notes sheet as two separate A4 sheets.
Once you have clear practice targets for the week from your teacher you can divide them up using the
practice planning charts


---

For more advice on how use your teacher's lesson notes to make more efficient use of your practice time, read my book Practice Makes Perfect. Practice Makes Perfect teaches you how to make your music practice more efficient and effective. Easy to read and containing over 140 pages of advice on how to practice, musical goal setting, practice games, exams and further tips on using the music practice charts on this site as well as other invaluable practice advice Practice Makes Perfect is an essential read for all musicians

Click here for more information on Practice Makes Perfect

Or
for $14.97 through E-Junkie's 100% Secure server and receive a text only copy COMPLETELY FREE!

---
All the files on this page are in a PDF format.
Click here to get the free Adobe Acrobat Reader
which you will need to view the files. Mac users may also view them in the built in application Preview.
---

Return to Downloads from Music Lesson Notes

Return to Essential Music Practice