Search Essential Music Practice

As the Essential Music Practice site continues to grow a number of people have asked for a site search feature...so here it is, courtesy of Google!
Having trouble remembering where you saw that information about Preparing for Performance or the rules for Cheating Chess? Just type your query into the box below and Google will search the site for the information you are looking for. You can even search the entire web from the results page if you don't find what you are looking for here!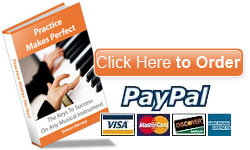 For more advice on how to make more efficient use of your practice time, read my book Practice Makes Perfect. For more guidance when practising scales order Practice Makes Perfect, the book that teaches you how to make your music practice more efficient and effective. Easy to read and containing over 140 pages of advice on how to practice, musical goal setting, practice games, exams and further tips on using the music practice charts on this site as well as other invaluable practice advice. One music teacher called Practice Makes Perfect "An essential read for all musicians "
Click here now to order or read more about how Practice Makes Perfect can help you make more progress in much less time.