Zoom Digital Recorder Reviews

Here is an overview of the Zoom digital recorder range. Click on the photos or links for more in-depth information on each particular model. The newest (and more expensive) models are at the bottom of the page and the older (cheaper) models are at the top because I am primarily looking at quality/price comparison when this is used for music practice, rather than studio recordings. I have now been using the Zoom H2 in my classroom for over 2 years and it has constantly performed above my expectations for the price I paid. While it may have issues that mean it isn't a replacement for a high quality mic and computer set up, it is certainly more than adequate for recording music practice and I have also used it very successfully to record IGCSE student performances and composition.
---

Zoom H2

Price from $145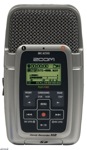 The Zoom H2 is the most basic of the Zoom recorder range. This does not mean it is without excellent features though! The Zoom H2 is the digital audio recorder that initially brought Zoom to my attention when I borrowed the H2 from a friend. I found it had high quality sound, with excellent features and easy to use - especially since I only picked up the record, not the manual! It only took me a few moments to work out the functions of the buttons and start making recordings with the handy one touch record feature.
The Zoom H2 also has 4 built-in microphones which may be used in a variety of configurations including a 360° recording mode which makes it great for recording group practice! Click here for more detailed information on the Zoom H2
There is now an updated version of the Zoom H2, the Zoom H2n. I am in the process of getting hold of one of these to write a review. Check back soon!
---
Zoom H4n

Price from $269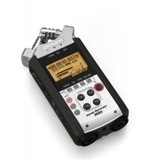 The Zoom H4n was previously top of the Zoom digital recorder range and is full of excellent features all wrapped up in a small, easy to use package! With very high quality sound, with a huge range of features including using the H4n as a USB audio interface for your Mac or PC it has something for everyone. It also enables the user to slow down a track while keeping the same pitch...ideal for music practice and transcribing music. I am looking at the Zoom H4n very seriously myself. 
Click here for more detailed information on the Zoom H4n
---

Zoom H4
Original price from $299 but now reduced considerably!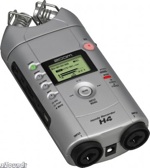 This is the previous version of the H4n and I will say from the outset that I don't really like the look of it!. The H4n is far more aesthetically pleasing to me! 140 reviews on Amazon.com give this 4 stars overall and I'm sure the sound quality is good. The initial price of the Zoom H4 was $499 but it is reduced to $170 or even lower now. If you find an 'end of the line' price it could be a way to get a zoom digital recorder at real bargain price, however, I suggest you also check out the Zoom H4n or even the Zoom 6n before making a final decision.
---

Zoom H6
Price from $399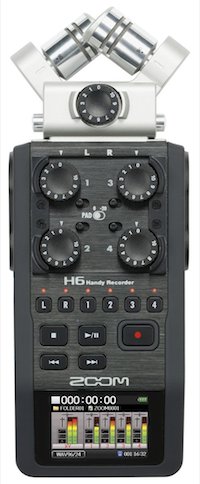 The Zoom H6 is the latest and greatest addition to the Zoom digital recorder range. It is already gather great reviews and I am hoping to get my hands on one soon and add a review here. If it is of a similar price/quality ratio to the other zoom recorders I am sure it will be excellent. See this and all the other Zoom recorders on Amazon.com, Amazon UK or music specialist site Zzounds.com

Let us know about your experiences
Do you own, or have you used a Zoom Digital Audio recorder for music practice, or anything else for that matter. Share your experiences in the form below or scroll down to make a Facebook comment and help other readers make informed choices.
Have something to share about digital audio recorders?
Have you had experience, positive or negative, when using particular models of digital audio recorder, or do you use your recorder for practice in an interesting or unusual way? Please share your knowledge.
Expert Practice Secrets
Frustrated with your practice? Read Practice Makes Perfect and hack the 10,000 hour rule. Cut your practice time by up to 25%! Make faster progress, learn pieces and scales faster, memorize more easily, and much more. "If you play an instrument you need this book!"
Oct 17, 17 06:51 PM

I took my online lessons from an Azerbaijani musician in Istanbul. I could find him from his website. I put here for in-need people. I am very satisfied

Oct 17, 17 06:50 PM

Hello! First of all, thank you for publishing all this useful info on piano learning. I would like to share my experience using Smart Game Piano How

Oct 17, 17 06:21 PM

You may wear the finest clothes, own the biggest house, eat only gourmet foods and live the most extravagant lifestyle known. All of those are improved