Zoom H2 Review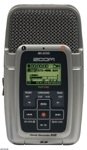 The Zoom H2 is a fantastic value digital audio recorder. It is the cheapest in the Zoom range, but don't let its reasonable price fool you into thinking there's not much to this digital recorder. The H2 is at home being used for solo or group music practice, as a notepad for composers and song writers, as a recording device for concerts…the list is endless! And all in a small, easy-to-use, ultra-portable package.
---
I have an H2 that I use in the classroom for recording students during lessons and that students often use to record their music practice. I have now had it for 2 years and it is still going strong. This model has now been superseded by the Zoom H2n. I am hoping to take delivery of an H2n in a couple of weeks so will add a review soon.
---

Sound quality

With 4 mics arranged in a W-X/Y configuration amazing quality 360° recording is possible on the Zoom H2. And as if this were not enough you can also record from the front and at 90°, or the rear at 120° in unto 24-bit/96kHz WAV format or up to 320kbps MP3!
I found the quality of recorded sound to be excellent. the sound was clean and there was no evidence of background noise or hum, although there was some slight handling noise when pushing the buttons. Recordings of acoustic instruments were very true to the original sound.
The H2 also has Broadcast WAV Format (BWF) mode that adds Time Stamp and Track Marker information to recordings.
Ease of use

Easy! I didn't have the manual and found the H2 easy to use straight away (although it did take me a couple of minutes to work out I needed to push the record button twice to start recording. I did download the manual (which is very well written and easy to follow) to check some of the features such as compressor settings etc. The screen isn't as big as maybe it could be - but at this price i'm not arguing! Menus were all easy to navigate.
Features & Extras

As well as recording features the H2 has a built in metronome and tuner. Transfer to PC or Mac is via USB2 port. Recording is saved onto SD cards (a 512 card is included). It also comes with earbuds, a ⅛ inch stereo to RCA cable, mic clip adapter, tripod stand and an AC adapter. It runs from 2 AA batteries and doesn't seem too power-hungry.
The H2 also has a low-cut filter to eliminate wind noise and an auto gain control and the H2 can actually be used as a USB mic when connected to our computer!
Build quality

The mic grill is metal mesh - the rest of the unit is finished in lightweight plastic. It feels a touch flimsy, although my friend has had his for a couple of years and it has been fine.
Price
Great sounds and feature set at this price!
£159 at Amazon UK 

$142 at Amazon.com

$169 at Zzounds - although they guarantee to beat any price so you might get it cheaper if you tell them the Amazon price!
Value for money

Overall: Unbeatable value!
Buy the Zoom H2 if…
You want to record your band rehearsal - just pop it in the middle of the room and off you go!
You want basic features without too many other bells and whistles at a good price
You need something small enough to carry around and use as an audio notepad for your next symphony or number 1 hit song.
You want something simple and effective
Click here to see other Zoom digital recorder models available
Click here to see digital audio recorders available from other manufacturers
You may also be interested in the Zoom H4n.
Expert Practice Secrets
Frustrated with your practice? Read Practice Makes Perfect and hack the 10,000 hour rule. Cut your practice time by up to 25%! Make faster progress, learn pieces and scales faster, memorize more easily, and much more. "If you play an instrument you need this book!"
Oct 17, 17 06:51 PM

I took my online lessons from an Azerbaijani musician in Istanbul. I could find him from his website. I put here for in-need people. I am very satisfied

Oct 17, 17 06:50 PM

Hello! First of all, thank you for publishing all this useful info on piano learning. I would like to share my experience using Smart Game Piano How

Oct 17, 17 06:21 PM

You may wear the finest clothes, own the biggest house, eat only gourmet foods and live the most extravagant lifestyle known. All of those are improved