Zoom H4n Review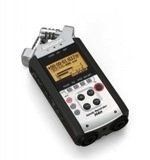 The Zoom H4n is an advanced digital audio recorder and is packed with great features. It is the upgrade of the Zoom H4 but it has many more features and looks much better too!
Not only is it a digital audio recorder, it also acts as a digital portable four-track recorder and a USB audio interface for your PC or Mac as well! And all in a small, easy-to-use package. Brilliant. In fact, I'm thinking about buying the H4n myself!
---
I borrowed an H4n from a friend for a couple of weeks while he was on holiday and I have to say I was incredibly impressed. I was almost hoping that my Zoom H2 would fail and give me an excuse to buy one, but unfortunately the build quality of the H2 means it is still going strong 2 years later! 
---

Sound quality

Totally fantastic! Even the built in microphones give very good quality but connect a good external mic and you have studio quality recording in a 6.2 x 2.8 x 1.4 inch package that weighs only 9.9 ounces!
The built in condenser mics are arranged with the left and right micas on the same axis to ensure they are alway equidistant from the sound source for great stereo recording with accurate imaging and no phase shifting. The mics may also be adjusted to record in either a 90° or 120° pattern. And with its four track ability you can add two external micas or line inputs and use the built in mixer for perfect balance every time!
The Zoom H4n records at up to 24-bit/96kHz for pristine recordings as well as MP3 formats from 320kbps down to 48kbps when you need longer recording times.
The H4n also has Broadcast WAV Format (BWF) mode that adds Time Stamp and Track Marker information to recordings.
Ease of use

Easy! There is a scroll button for the main control and the mic level control is right at your fingertips. As with any small device with lots of functions going into the deeper menus sometimes requires a bit of reading the manual, but since it comes with an easy to follow manual that is well written this isn't a problem. The unit has an auto gain record level as well which is great.
Features

As well as recording features the H4 has a built in metronome, tuner, guitar and bass amp modeling plus 50 other DSP studio effects. Transfer to PC or Mac is via USB2 port. Recording is saved onto SD cards - up to 32GB (a 1GB card is included). It also comes with an AC adapter, windscreen, USB cable, mic clip adaptor, protective case and a built-in tripod mount for use with a standard camera tripod.
Cubase LE recording software comes with the H4n as well…I have to confess I haven't used Cubase since the days I had an Atari 1040STE (I'm a Logic user) so I don't have any idea of how the software runs these days, although I have heard it is the most confusing software on the planet if you are not already a user! I will find out from a Cubase user and post here soon - watch this space! If anyone has any info or tips to share on Cubase LE please contact me.
The H4n runs on 2 AA batteries and doesn't seem too power-hungry. It also has stamina mode which means it will run for
The H4 also has a low-cut filter to eliminate wind noise and an auto gain control to ensure quality recordings every time.
There is also a remote control available as an optional extra from around 40 dollars. You can even buy a waterproof case! Zzounds has various deals on the Zoom H4n where you buy the unit with several accessories. Click here for deals on the Zoom H4n at Zzounds
Build quality

The unit feels very solid and doesn't have the lighter plastic feel of the Zoom H2. The rubber sides give added protection and although the mics don't seem as sturdy as the rest of the unit I'm sure all owners would take good care of this area anyway! The Zoom H4n comes with a case included.
Price

$269 at Zzounds (although they guarantee to beat any price so you might get it cheaper if you tell them the Amazon price. Also check their blowouts page as you can often pick items up with substantial discount!
Available at Amazon US and Amazon UK as an individual unit, but also available in a pack with various extras!
Expert Practice Secrets
Frustrated with your practice? Read Practice Makes Perfect and hack the 10,000 hour rule. Cut your practice time by up to 25%! Make faster progress, learn pieces and scales faster, memorize more easily, and much more. "If you play an instrument you need this book!"
Oct 17, 17 06:51 PM

I took my online lessons from an Azerbaijani musician in Istanbul. I could find him from his website. I put here for in-need people. I am very satisfied

Oct 17, 17 06:50 PM

Hello! First of all, thank you for publishing all this useful info on piano learning. I would like to share my experience using Smart Game Piano How

Oct 17, 17 06:21 PM

You may wear the finest clothes, own the biggest house, eat only gourmet foods and live the most extravagant lifestyle known. All of those are improved