Online Piano Lessons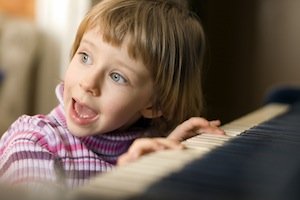 While I recommend a teacher I realize that sometimes online piano lessons are the only way it is possible to learn this amazing instrument. Depending what style you want to play in there is a huge amount of material available on the internet about learning how to play the piano.
Some people reading this will be starting from scratch whereas some may already have piano lessons and are looking to use online piano lessons to supplement their study or learn to play in a different style. For instance, if you learn piano with a teacher you may be learning mainly Classical music and want to learn jazz, rock, blues or gospel piano. If this is the case then online piano lessons could be idea, because you already have a teacher showing your the correct techniques, you just need to apply these to the new skills playing in a different style!
I have included online piano lessons in several different styles below with some notes on each to help you decide which system is best to help you learn how to play piano.
---

The Rocket Piano Course

This is one of the online piano lessons courses I actually approve of and is certainly one of the most popular courses for learning piano online. This is written by a group of experienced piano teachers and performers and has you playing actual tunes fairly quickly, possibly within the first week. The course is well structured and can essentially provide you with 12 months of lessons (depending on how quickly you work through it!). There are plenty of fun pieces to play during the course, as those that are there to help you develop a good solid technique. Having all the material delivered at once could potentially be a little daunting, and be sure to plan carefully to ensure you are following through the course in a logical fashion. It is branded the easy way to learn piano and while I don't actually agree there is an easy way to learn piano, this course certainly keeps the learning curve smooth and fun. Overall I would recommend the Rocket Piano Course course to people who want to learn piano but don't have a teacher. 
A recent addition to the Rocket Piano Course is many extra free book teaching piano in different styles such as gospel, jazz, show songs and a guide to improvisation. Check the website for current offers! Click here for more information on the Rocket Piano Course.
---
I highly recommend playing music in different styles as part of an effective music practice regime, so if you are already having piano lessons and would like to try your hand at another style some of the courses below may be for you. They can also be used to learn piano from scratch in that particular style.

---

Learn To Play Gospel Piano

Once you get through the sales page claiming that the 'secret' to this way of learning was nearly 'lost'...and how long it took the author to to get the book to market, this course of online piano lessons actually has a lot going for it. There is clear progression from skill to skill and advice for how to practice gospel piano styles and riffs. There are simplified arrangements for less experienced players to use with more complex arrangements to aim for (or for more experienced piano played to use). The author is also a bit of a metronome fan, like me, so I have to give him kudos for that!
Those who would like to play piano in their church band or would just like to extend the range of styles they play in at home by adding gospel piano to their repertoire click here to Learn to Play Gospel Piano!
---

How to harmonize any tune with beautiful piano chords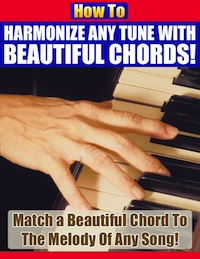 This course isn't really about learning to piano per se, it is more about learning to play by ear and being able to add an accompaniment to a melody, or work out a tune in a you hum it, I'll play it fashion. If you have taken a reasonable amount of theory lessons and have an understanding of chords you probably don't really need this course! You already have what you need and you should just spend time sitting at the piano, listening to songs, picking melodies you know and practicing harmonizing them. After all, practice, not more and more online piano lessons, makes perfect!
If you are somebody who can play piano, but has always needed a full score of music in front of you and envied those who just seem to sit and play so effortlessly this could be the course for you! The author, Duane, takes you through various harmonizing techniques and exercises and shows you the basis of how harmony and structure work and can be applied to most pieces.
This course is more relevant to popular song form from the jazz era up to the more ballad type songs of today. Many of the dance songs today tend to use rhythm and bass as their anchor more and are harder (but not impossible) to make piano versions of using these techniques. That said, however, if you want to be able to harmonize at the keyboard and impress people with your 'you hum it, I'll play it' abilities then click here to learn How to Harmonize Any Tune
---

A.S.A Piano course
This piano course basically teaches you to play 12 songs, a 1 hour repertoire, in a variety of styles from Elton John's Candle in the Wind to Kings of Leon Use Somebody. This isn't the course for you if you want to actually learn to play piano, read music etc. However, if you already learn but you are frustrated but the fact you can only play 'Classical' songs, or you just want to learn a few songs to impress people at a party, then this could be the course for you! It also teaches you how to play from chords, something I know many classically trained pianists find difficult! This course may also be suitable for parents who want to encourage their children to learn the piano, but who are meeting with resistance.
There are three books included the Popular Songs book above, Beautiful Ballads and Gospel Songs. UPDATE: A free Music Theory course has recently been added, although I have not seen this so cannot comment on the quality.

The songs are taught in an easy to follow style using video, audio and printable materials. The teacher, Samantha Griffiths, also offers online support in her forum, to help you solve any problems you might have. If you are looking for an easy to learn, popular piano repertoire click here to check out A.S.A. Piano
---
If you are looking for keyboard lessons please click here to see my reviews of online lessons to help you learn to play keyboard.
---

Piano Software

You may also be interested in checking out this page on piano software which features various software packages for helping learn the piano. These packages could be especially useful to those taking online piano lessons as supporting material. In fact, one of the pieces of piano software is a complete course for learning piano in itself.
---

Your experience can help!
Help others choose the right online piano lessons for them. If you have first-hand experience as a learner of any of the courses listed above please leave a comment below either in the comment box or further down as a facebook comment. Let others know what worked and what didn't, whether you personally found the course good value for money and how you feel you progressed. I can review these courses from the point of view of a pianist and teacher, but I'm sure it would be helpful to others to have comments/reviews from students as well… it is a long time since I was a student… much as I hate to admit it!
Have you used an online music course or a piece of music learning software?
How was your experience? What were the good (and bad) points about the course? Is it a course that isn't mentioned on the site already that others might want to check out? Share your experience with other users by writing a review...
Other Visitor Reviews
Click below to see reviews from other visitors to this page...

Smart Game Piano

Hello! First of all, thank you for publishing all this useful info on piano learning. I would like to share my experience using Smart Game Piano …
Expert Practice Secrets
Frustrated with your practice? Read Practice Makes Perfect and hack the 10,000 hour rule. Cut your practice time by up to 25%! Make faster progress, learn pieces and scales faster, memorize more easily, and much more. "If you play an instrument you need this book!"
Oct 17, 17 06:51 PM

I took my online lessons from an Azerbaijani musician in Istanbul. I could find him from his website. I put here for in-need people. I am very satisfied

Oct 17, 17 06:50 PM

Hello! First of all, thank you for publishing all this useful info on piano learning. I would like to share my experience using Smart Game Piano How

Oct 17, 17 06:21 PM

You may wear the finest clothes, own the biggest house, eat only gourmet foods and live the most extravagant lifestyle known. All of those are improved