Perfect Practice Tips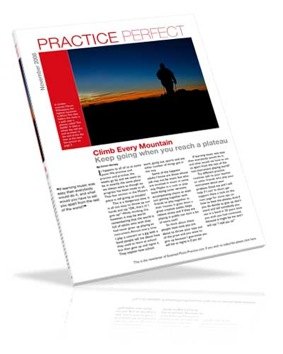 Subscribe to the Perfect Practice e-zine and get up to date practice tips in your email once a month. Articles in the e-zine focus on practice technique for all instruments, as well as having a specific instrument focus in some issues. New software packages and books are also reviewed when appropriate.
Whether you are a student, teacher or parent, this is a light, but informative and indispensable read.
If you would like to read back issues before you sign up click here for archived copies
Sign up now by completing the form below

I am always looking for good, original content. You don´t have to be a professional writer... just have something to say! Articles can be from any perspective: young student, older student, beginner, advanced, teacher, parent, a friend who wishes you didn't have to do quite so much practice.... You can even submit articles based on how you went, or intend to go about practicing a certain piece of music, so get thinking and get writing! Please click here and let me know if you have any ideas for Perfect Practice!
---

Return to Essential Music Practice from News