Perfect Practice Tips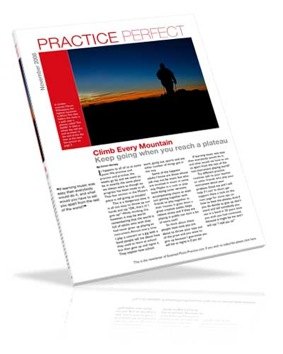 Subscribe to the Perfect Practice e-zine and get up to date practice tips in your email once a month. Articles in the e-zine focus on practice technique for all instruments, as well as having a specific instrument focus in some issues. New software packages and books are also reviewed when appropriate.
Whether you are a student, teacher or parent, this is a light, but informative and indispensable read.
If you would like to read back issues before you sign up click here for archived copies
Sign up now by completing the form below

Do you have something to say
about music practice?

Why not write an article for Perfect Practice? I am always looking for good, original content. You don´t have to be a professional writer... just have something to say! Articles can be from any perspective: young student, older student, beginner, advanced, teacher, parent, a friend who wishes you didn't have to do quite so much practice.... You can even submit articles based on how you went, or intend to go about practicing a certain piece of music, so get thinking and get writing! 
I am always looking for
music practice game ideas
specific practice techniques for different instruments
creative uses of the metronome
new methods for learning (and remembering) scales
any iOS or Android Apps you find particularly useful
any recording device or other equipment you feel your students can't (and shouldn't) live without
ideas for preparing for concerts and exams
particular challenges you or your students have overcome
a student's perspective as to what does and doesn't work for you
your general philosophy on music practice
anything else you think is relevant to the site!
Please let me know on the form below if you have any good article ideas!
---

Newsletter coming back soon!
Due to work commitments I haven't had time to write the newsletter recently. However, once all the Christmas concerts are out of the way it is my intention to get back to writing it in the New Year, so be sure to sign up and let me know on the form above if you have any suggestions for articles, or if you are interested in writing a guest article.
Frustrated with your practice? Read Practice Makes Perfect and hack the 10,000 hour rule. Cut your practice time by up to 25%! Make faster progress, learn scales, memorize pieces more easily and much more. "If you play an instrument you need this book!"
Nov 26, 15 11:11 PM

I am holding some live music practice workshops and clinics next year so let me know when a good time for you would be and what instrument you play.

Nov 01, 15 05:51 AM

The page from which to download the free ebook How to practice: 5 habits to help you make more progress.

Jun 22, 15 06:52 PM

Perfect training software where you practice your music theory knowledge and your hearing. and it's really fun as well!