File Music and stay calm
If you file music as you learn it you will find it much easier to choose pieces for performance, even if that performance is at short notice. A little organization can save a lot of stress. If this isn't a quote by somebody I would like the credit for it!
The essential information you need when filing your music for future performance is the title of the piece (I always add the key here too if it isn´t part of the title), composer, date or period when it was written, the tempo and the date you started and finished learning the piece. The File it form also contains a section to add details of the original owner of the music in case you need to contact them and ask to borrow it again. This information is all on the top of the form.

Add details of any performances of the piece and make a note of any particularly difficult sections as you practice. These are the parts you need to practice first if asked to perform the piece. When it is complete mark in the date of completion, photocopy the music (if you are the owner) and attach the form.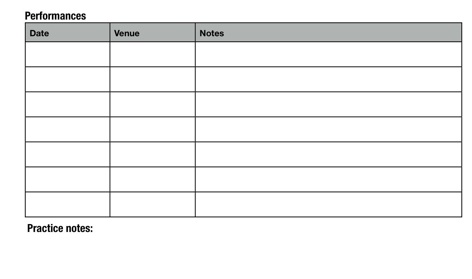 Click here to download the File it sheet and Click here to download some notes on how to use it
You might decide not to bother with this.. but next time you have to do a sudden performance and you are rushing around trying to remember the pieces you have learned recently, who has the music and whether there were any bits that were very difficult and you don't have time to practice again remember it is here. It won't help you with that particular performance, but it will help make sure you aren't ever in that situation again!
We all need a little 'encouragement' to do seemingly unimportant things like file music sometimes!
---

All the files on this page are in a PDF format. Click here to get the free Adobe Acrobat Reader which you will need to view the files. Mac users may also view them in the built in application Preview.
---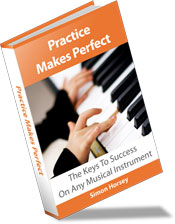 Frustrated with your practice? Read Practice Makes Perfect and hack the 10,000 hour rule. Cut your practice time by up to 25%! Make faster progress, learn scales, memorize pieces more easily and much more. "If you play an instrument you need this book!"